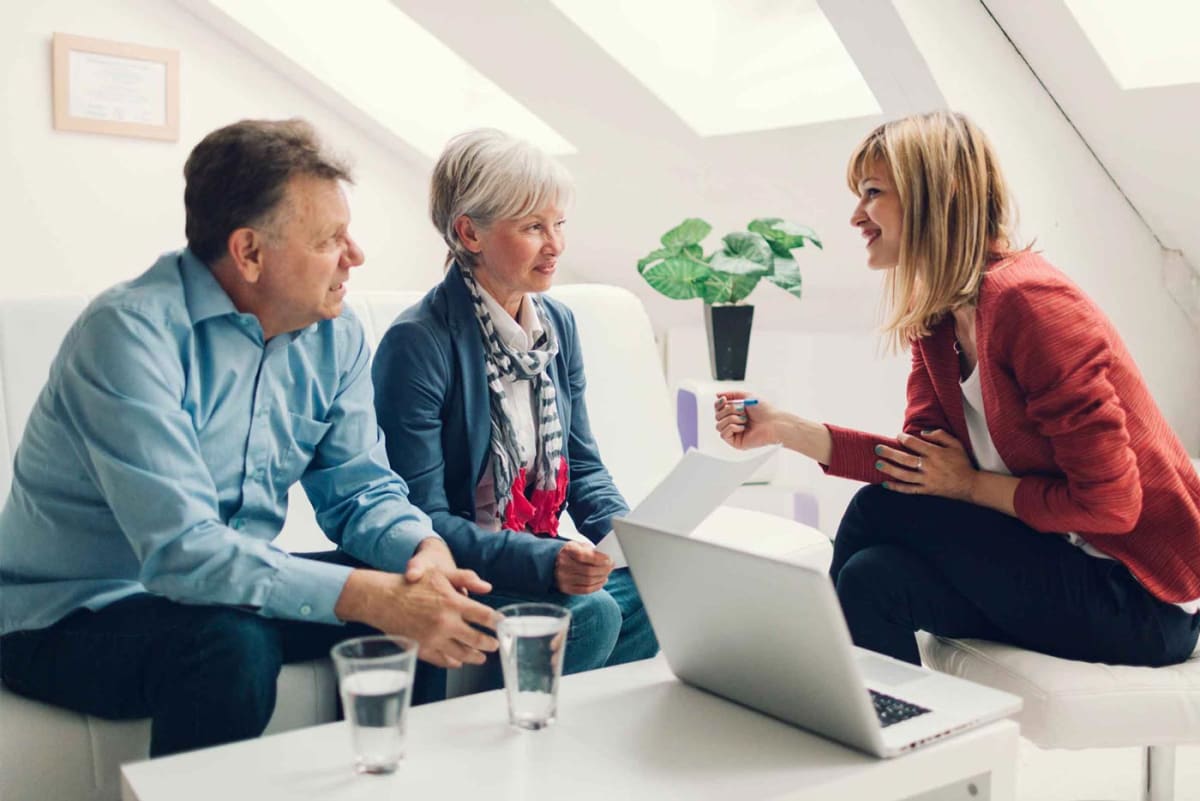 How much does a financial advisor cost?
How much does a financial advisor cost?
$1,000 – $3,000
Fee-only Financial Plan
0.25% – 1.65%
Annual Asset Management Fees
---
Most fee-only financial planners charge $1,000 to $3,000 to create a one-time comprehensive financial plan. For ongoing account management, hands-on financial advisors typically charge 0.65% to 1.65% annually, whereas automated Robo-advisors charge 0.25% to 0.89% annually.
Get free estimates for your project or view our cost guide below:
$1,000 – $3,000
Fee-only Financial Plan
0.25% – 1.65%
Annual Asset Management Fees
---
Most fee-only financial planners charge $1,000 to $3,000 to create a one-time comprehensive financial plan. For ongoing account management, hands-on financial advisors typically charge 0.65% to 1.65% annually, whereas automated Robo-advisors charge 0.25% to 0.89% annually.
Get free estimates for your project or view our cost guide below: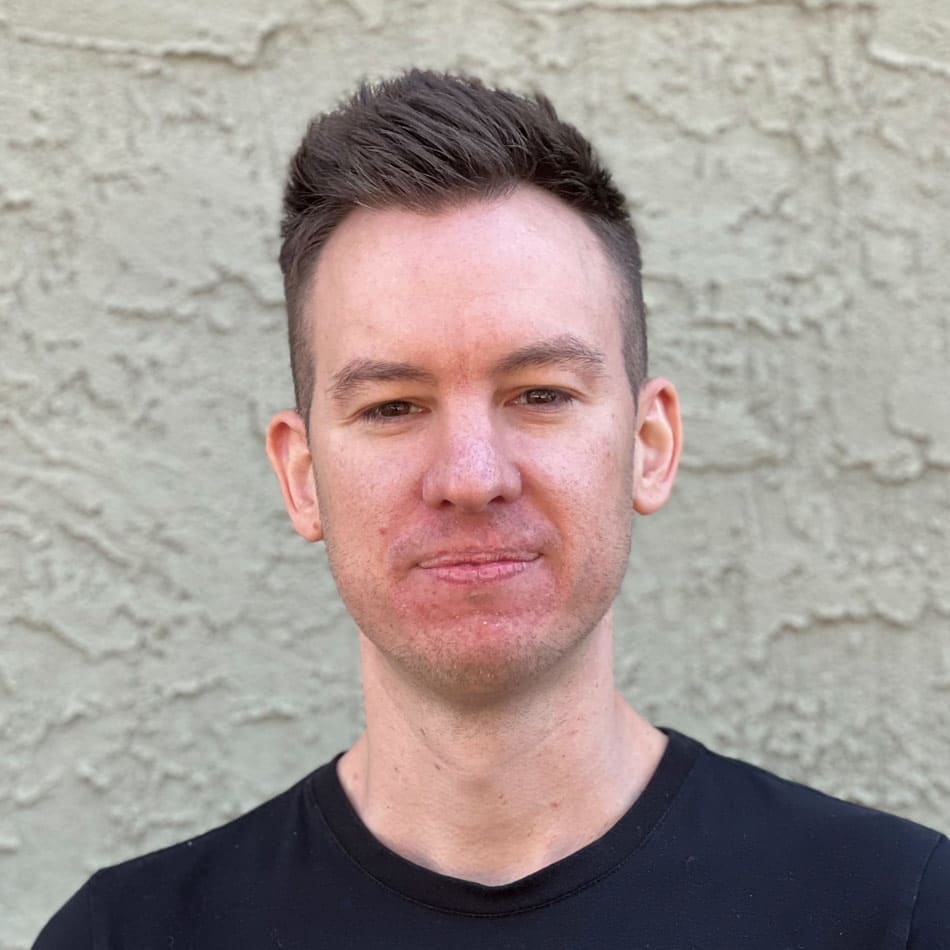 Financial Advisor Costs
Financial advisors charge a flat fee of $1,000 to $3,000 for the one-time creation of a comprehensive financial plan and hourly fees of $120 to $300 for ongoing service, or 0.65% to 1.65% of total assets under management annually. Robo-advisor fees range from 0.25% to 0.89% annually.
Average Financial Advisor Costs

| Type | Average Fees |
| --- | --- |
| Flat Fees | $1,000 – $3,000 |
| Hourly Fees | $120 – $300 |
| Assets Under Management (AUM) | 0.65% – 1.65% |
| Private Wealth Management | 0.50% – 1.05% |
| Robo-Advisors (AUM) | 0.25% – 0.89% |
Prices vary greatly depending on the type of financial consultant you have, which kind of accounts you select, and how much you invest. Every firm, brokerage, and agency has their own fee structures and policies. You'll find many ways in which financial advisors list their fees, so look for these terms:
Fee-only advisors and financial planners often charge per hour, per consultation, or according to the number of plans they create. Fee-only consultants may prefer a flat annual fee or monthly retainer fees if they provide you with ongoing consultations throughout the year.

Brokerages and fee-based advisors commonly charge according to the percentage of your assets that they manage either quarterly or annually. Commission fees per trade often apply as well.

Any firm or bank may add on miscellaneous fees for general transactions, wires, transfers, withdrawals, etc.
What Exactly Do Financial Advisors Do For You?
A certified financial planner (CFP) can give you smarter, personalized advice to boost your savings and avoid a mountain of debt depending on your risk tolerance. When starting a family, planning for retirement savings, setting up college funds, or buying a new home, then it's wise to bring on a financial planner.
It's important to understand the types of financial advisor's fees. Every different kind of financial advisor has a different strength and certification level.
A financial planner can take your financial goals and break them down into a step-by-step road map to calculate what it will take for you to get there. They can give you a reasonably estimated timeline for reaching your goals.

Wealth managers can organize your overall cash flow so that budgeting doesn't overwhelm you.

A chartered financial analyst knows the risks of each kind of investment and asset allocation. They can also help you plan for taxes when you suddenly get an inheritance.

A certified investment-management analyst or a chartered financial consultant offers advisory services that have a significant impact on your finances so that you avoid expensive mistakes. They know how to weigh the consequences of your current spending habits realistically, which helps you see the bigger picture of where you're going.
Typical Financial Advisor Service Fees
While service fees differ according to what an investment company offers, the industry-standard fee for most financial advisors is around 1 percent of the total value of your investment portfolio. Even flat-fee advisors may base their fees on these estimated percentages when you make your first deposit.
Financial Advisor Fees
Type
Average Fees
Hourly Rates
$120 – $300
Commissions per trade
1% – 10%
Flat-rate trading fees
$0.65 – $5+ per trade
$1 – $14+ per bond
Assets under management fees (AUM)
0.65% – 1.65% annually
Robo-advisor fees
0.25% – 0.89% annually
One-time Financial Plan
$1,000 – $3,000
Custom Flat-fee Financial Planning
$1,800 – $5,000
Mutual fund transaction fees
$25 – $65 per trade
Equity trading fees
$50 – $95 per trade
Fixed income unit trust plans
0.95% – 3.50%
Standard fund expense-ratio fees
0.37% – 0.78%
Mutual fund sales load
3% – 6%
Private wealth management advisory fees
0.50% – 1.05% annually
Flat Fee Financial Advisor
The least-expensive flat fee for financial advisors is around $1,000 to $3,000 annually to create a plan and buy funds according to the specific services you select. This type of fee-only financial advisor cost is less because you have to maintain the accounts after they've set them up for you.
Flat Fee Financial Advisor

| Investment Amount | Average Annual Fee |
| --- | --- |
| One-time Financial Plan | $1,000 – $3,000 |
| Less than $500,000 | $7,500 |
| $500,000 to $1 Million | $11,000 |
| $1 Million or more | $12,500 – $55,000+ |
If you're paying a fixed fee for a financial advisor to maintain your accounts and make trades for you, then this charge is typically a retainer for service fees. These charges cover building a financial plan, assisting you with account setup and maintenance, tracking your progress, providing ongoing personal advice, and changing your plan when necessary to meet your goals.
Be sure to look at the firm's Form ADV, filed with the Securities and Exchange Commission (SEC), for a clear explanation of each fee type charged for its investment advisory.
Average Financial Advisor Cost Per Hour
The average hourly rate for a financial advisor is around $120 to $300. For additional services or if the firm is in high demand, advisors may charge $400+ hourly. An hourly-based financial planner is the best choice for specific tasks you want to focus on and costs less than full account management.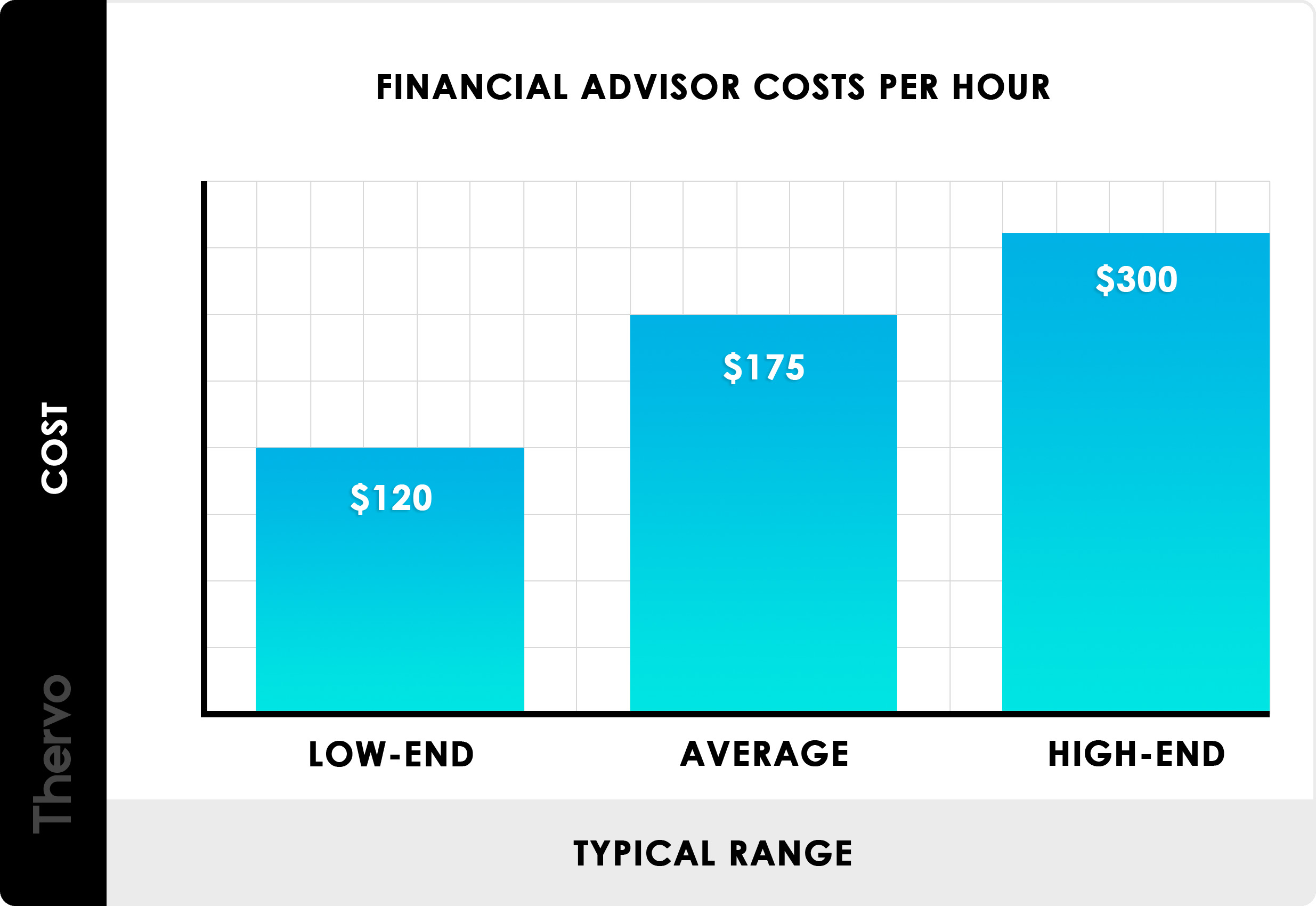 Hourly planners can help you create an estate plan, setup retirement plans, plan for taxes, and evaluate how to improve your investments. Another advantage is that their hourly fees don't change according to how much your assets are. The only tradeoff is that you have to spend time maintaining your accounts after they've created them with you.
Average Wealth Management Fees
Wealth management fees are an annual charge of around 0.65% to 1.00% of your assets for high-net-worth individuals who need in-depth estate planning, capital gains strategies, and risk management. You'll also pay additional fees for platform expenses and personalized financial products.
Wealth management fees refer to assets under management, or "AUM" charges, which is the continuous oversight of your financial portfolio, making trades where practical to reach your specific financial goals.
For example, a 1 percent AUM charge on a $250,000 deposit you made means you'll pay a $2,500 AUM fee annually (or $625 quarterly) as automatic deductions from your account balance.
Wealth management services typically include much larger minimum investments of at least $250,000, and some don't cater to any with less than $1 million. The most-exclusive wealth management advisors have a Chartered Wealth Management certification and at least three years of experience in the field, plus college degrees in finance.
Average Financial Advisor Commission
The average commission fee for financial advisors is 3 to 6 percent for mutual funds. AUM commissions may start at 1.18 percent but decrease to 0.65 percent or lower as you invest more. The average annual financial advisor commissions for most AUM accounts are:
Financial Advisor Commission Calculator

| Investment Amount | Average Annual Commissions |
| --- | --- |
| Up to $50,000 | 1.18% or $590 |
| Up to $100,000 | 1.12% or $1,120 |
| Up to $150,000 | 1.09% or $1,635 |
| Up to $250,000 | 0.65% to 1.07% |
Commission-based advisors are more likely to recommend you to buy investments that will pay them the highest commission. You can avoid this conflict of interest by hiring a fee-only advisor. The only tradeoff is that it's more common to see higher-risk offerings with a greater potential payout from commission-based brokers. Be sure to ask about their fiduciary duty to put your best interests first.
Robo-Advisor Fees
Robo-advisor costs between 0.15% to 0.89% of your deposit or about $10 monthly. You may not pay any advisory fee with a minimum $100 balance or monthly deposits, though you still have to pay other various expense-ratio charges for the mutual funds you buy.
What is a Robo-Advisor?
The term "Robo-advisor" means any computer program created by a financial firm that automates your trading and investment for you. It gives you the freedom to set your trading limits yourself and watch your progress online in real-time. You select the amount of financial risk that you're comfortable with and allow the computer models to carry out your trading plans according to your schedule.
Robo-Advisor Benefits
Most of them do not have a fixed minimum amount that you need to deposit to start. You could start trading with as little as $1.

They offer a lot of low-risk low-fee options. By choosing low-cost funds to back a mix of companies like the S&P 500 index, you can gradually build passive income over time according to the average market gains. It makes building a diversified portfolio much easier and accessible to more people.
Robo Advisors Vs. Financial Advisors
The following chart illustrates the biggest differences between digital Robo-advisors and human financial advisors:
Robo Advisors Vs. Financial Advisors
Digital Advisors
Human Advisors

Management Fees: Most average around 0.25 to 0.89 percent of your total investment or flat fees of around $10 monthly.

They may waive your fee with terms like a minimum $100 balance or $20 monthly deposit.

Management Fees: Cost an average of 1 percent of your total buy-in.

Give general investment guidance and portfolio organization tools.

Provide access to human financial advisors for in-depth investment questions.

Make starting out with investments easier.

Will diagnose your biggest financial problems and plan new opportunities to save money for your personal life goals.

Give in-depth investment guidance and manage your portfolio to save you time.

Will assist with estate planning and tax advice.

Helpful for more-complex financial assets and those investing around $250,000 or more.
Expense-Ratio Fees
Whether you get in-person financial advice or stick to a Robo-advisor, you'll still have to pay the same additional expense-ratio fee attached to the funds that you buy. This fee doesn't go to any advisor, but to the fund itself.
For mutual or index funds, most expense-ratio fees range from 0.63% to 0.78%. Bond mutual funds are the least expensive, ranging from 0.37% to 0.65%. Administrative fees and commissions on each trade can also apply.
For example, if you buy an index fund with a 1 percent expense ratio, then that means you'll spend $10 annually for every $1,000 you invest. Many people consider these hidden fees because you don't receive a bill and companies automatically deduct them from your balances. To find out the specific expense-ratio fee for your fund, you have to read the fund's prospectus or consult a financial advisor.
Even if you see a Robo-advisor service offering 0 percent in management fees, they may still charge you transaction fees or custodial fees in addition to the standard expense-ratio fee of the funds themselves. If you plan to invest larger amounts of money in the future, then you may need to pay fees for automated tax-loss harvesting, which reduces your income tax costs due to any large capital gains on your investments.
Financial Advisor Fee Structures
Always ask financial advisors how they will charge you because each investment firm has its own type of fee structure. Most advisors work by either a fee-onlypayment plan, as a fee-based advisor or as a commission-based advisor.
Fee-only Advisor – Fee-only advisors have the least conflicts of interest because they don't receive bonus commissions from their trades. They will charge you a flat fee, an hourly rate, or around 1 percent on average of the total assets they manage for you. The highest-quality fee-only advisors follow fiduciary standards, which means they will put their client's interests before their own.

Fee-based Advisor – Unlike fee-only advisors, you'll find that fee-based advisors receive standard fees plus commissions from the specific financial products that they recommend. That means they aren't only considering which investments are best for you. They also have strong incentives to encourage you to buy certain load-based mutual funds or annuities that will pay them an additional income as well.

Commission-Only Advisor – A commission-only advisor charges clients a commission fee for every security transaction they make. You may see these charges reported later as "production credits" attributed to the financial advisor. This fee structure may work well with for long-term investors who prefer a buy-and-hold strategy and don't require so much advice. However, in discretionary accounts where you give the advisor the freedom to trade without requiring permission from you first, then you run the risk of getting an advisor who starts "churning" your accounts. Churning is trading excessively so that the financial advisor makes more in commission fees.
Fee Vs. Commission Financial Advisor
In general, a fee-only financial advisor is often best for those who plan on making frequent trades and aggressive portfolio building. If an advisor would attach extra commission fees onto every stock purchase and sale you make, it would cost you far more money than if you'd paid a flat fee upfront.
A commission-based financial advisor is an excellent choice for those with smaller portfolios that don't require a large number of trades to meet your financial goals. That's because your commission fees will be comparatively smaller than paying the flat annual fees of many advisors.
Financial Advisor Vs. Planner
The key to understanding a financial planner vs. an advisor is to remember that not all advisors have experience in long-term financial planning for retirement and estate planning. Planners have extra certifications required to manage your long-term plans professionally. Any broker or person who assists you in money management can technically call themselves a "financial advisor," so check their qualifications before working with them.
Look for someone with a license as a certified financial planner, a certified investment management analyst, or a chartered financial consultant. The most-knowledgeable is the chartered financial analyst, who has studied beyond the traditional college-level finance courses to also master corporate finance, security analysis, investment management, and all the risks of stocks and bonds.
Ideally, the Financial Industry Regulatory Authority (FINRA) recommends that a professional financial planner should've taken the Securities Industry Essentials, or SIE exam, and have the backing of a broker-dealer to take the General Securities Representative exam before officially registering with FINRA.
You can check if a financial planner is highly qualified by asking if they're a member of the National Association of Personal Financial Advisors, or NAPFA. They might also have an association with the Garret Planning Network for retirement planning or the XY Planning Network of certified financial planners for the self-employed and families.
Financial Planner Cost
Financial planner fees range from $150 to $300 hourly. Fee-only financial planner rates for consultations are $400 to $600. Creating a comprehensive financial-savings plan is $1,000 to $3,000. Monthly retainers are $50 to $300 to keep your plan updated and revise it if you start going off track.
The cost of financial planning services will often be slightly more than hiring a general broker or average financial investment advisor because financial planners give in-depth guidance such as asset allocation and rebalancing. Planners assess your employee benefits, options for retirement, insurance plans, and estate management. You describe your specific financial situation, and then they help you through a variety of investment options.
Professional Financial Advisor Fees Comparison
When you make an investment advisor fees comparison, you have to do it based on how much money you have to invest and your financial goals. No one company is best for everyone, and neither do they all charge you the same way. Here's a quick summary of what to expect from the four most well-known money management firms. Other self-service firms to look into include Vanguard and TD Ameritrade.
Edward Jones: Pay 1 percent of your investment for equity and balanced funds. It costs 1.95 to 3.5 percent for a fixed income unit trust. Pay 2 percent of your stock value or $5 minimum for systematic stock purchases. They specialize in personalized wealth management planning.

Morgan Stanley: Spend 0.35 percent of your balance annually if you invest at least $5,000 in Access Investing, which incorporates Robo-advisors. Wealth management requires a minimum of $250,000. Managed futures, Global Investment Solutions, and hedge funds are available with accounts of $1 million minimum.

Fidelity: Pay a 0.35 percent advisory fee for Fidelity Go® Robo-advisors and basic digital investment managing tools. For private wealth management packages, you need at least $2 million in assets, and you pay an annual investment advisory fee of 0.50 to 1.05 percent.

Charles Schwab: Robo-advisors require a $5,000 minimum investment with no advisory fees. For broker-assisted trades, spend $0.04 per share for stocks up to $4.99. For transactions up to $2,500, pay $30 or 1.70 percent of the principal.
Edward Jones
On average, financial advisors at Edward Jones receive 1 percent of your total investment amount for both equity and balanced funds. Advisory Solutions Fund Models Accounts have an additional $10 minimum monthly fee.
When you purchase a mutual fund, your financial advisor receives as compensation a percentage of your purchase amount. Edward Jones financial advisor fees can include commissions, sales charges, administrative fees, and transaction-based fees.
Edward Jones Asset Management Fees

| Term | Fee |
| --- | --- |
| Less than 5 Years | 1.95% |
| 5 to 12 Years | 2.50% |
| 12 Years or More | 3.50% |
Financial advisors can earn between 1.20 to 2.70 percent of your total sales charges in concessions.
Additional fees such as these may apply to your account:
Systematic purchase of stocks: 2 percent of your investment, or $5 minimum.

Edward Jones Money Market Fund Investment Shares: $3.00 per month if average monthly balance falls below $2,500.

Edward Jones Money Market Fund Retirement Shares:  $3.00 per month if average monthly balance falls below $1,500.
Morgan Stanley
Most Morgan Stanley financial advisor fees are either annual charges or "pay-as-you-trade" charges. Dedicated financial advisors can charge anywhere from $250 up to a maximum of $10,000 to manage assets in a LifeView Plan worth more than $5 million. Morgan Stanley financial advisors are eligible to receive an incentive compensation credit rate from 20% to 55.5% of the gross revenue they generate.
Access Investing: If you invest a minimum of $5,000, then you'll pay 0.35 percent of your account balance as an annual advisory fee for a recommended investment model based on their algorithm and specialized data insights. You must also pay charges related to owning your shares.

Active Assets Accounts: $100 to $175 annually.

Retirement Accounts: $50 to $150 annually per plan or account. Please Note: These are some of the few Morgan Stanley accounts that are fiduciary accounts.

Basic Securities: $50 to $120 annually.

Global Investment Solutions accounts: Pay 0.15 to 2.85 percent for various equity plans with investments between $5 million to $10 million. Discounted rates are available for investors with more than $10 million. You need a minimum of $100,000 for equity accounts.

Money Market Trusts and Government Securities: 0.36 to 0.71 percent annually.

Morgan Stanley Choice Select Commissions: 2.25 percent for any investments less than $200,000. Fees progressively decrease down to 0.60 percent for investments of $4 million or more.

Morgan Stanley Wealth Management: This program requires $250,000 in investable assets, based on the total value of your liquid funds and all types of savings and investment accounts in your entire household. At this investment level, most portfolios include diversified and mainstream mutual fund families.

General Trading Fees: Equity trades range from $50 to $95.

Wrap Account Fees: This pricing scheme charges an annual 1 percent of the client's total household account value. This plan waives most trading fees. However, with most accounts starting with a minimum account value of $250,000, then expect to pay at least $2,500 per year.
Fidelity
Fidelity financial advisor fees vary according to the level of investment supervision that you want and how much you have to begin your savings plan:
Fidelity Go®: Basic digital investment managing tools start at a 0.35 percent advisory fee. There is no minimum investment amount requirement.

Fidelity Hybrid Robo: Get digital investing with personalized coaching at a 0.50 percent advisory fee. Setup your personal profile online, and they'll tailor a simple investment strategy for you. Requires a $25,000 minimum investment.

Fidelity® Wealth Services: If you invest a minimum of $250,000, then you pay an annual investment advisory fee of 0.50 to 1.50 percent to work directly with a personal advisor dedicated to managing your account.

Private Wealth Management: If you have at least $2 million in total investable assets, then you pay an annual investment advisory fee of 0.50 to 1.05 percent to work with a team of financial analysts, led by your personal financial advisor. The minimum investment to access a team of advisors is $50,000.

Trading Fees: $0.65 to $4.95 per trade and $1 to $14 per bond.
Charles Schwab
This firm charges primarily according to your account activity. For accounts managed by an affiliated independent investment advisor, Charles Schwab financial advisor fees include, but aren't limited to, the following:
For Robo-Advisors with Schwab Intelligent Portfolios®: Start out with a $5,000 minimum investment and no annual advisory fees or commissions.

For electronic trades: Minimum of $4.95 to $12.95 and a maximum of 10 percent of the principal per trade.

For broker-assisted trades: Minimum of $0.04 per share for stocks that cost up to $4.99. For transactions up to $2,500, you'll pay a flat fee of $30 and 70 percent of the principal. Maximum fees are a $255 flat rate plus 0.09 percent of the principal for transactions of $500,000 or more.

For mutual fund transaction fees: $25 to $45 for electronic trades and $45 to $65 for broker-assisted trades.

Fixed income investments: Prices start at $0.20 per bond with a $10 minimum and $250 maximum. Highest prices for certificates of deposit and corporate bonds are $1.20 per bond with a $10 minimum and $275 maximum.

For broker orders of at least 10,000 shares, or orders of more than $500,000, contact Schwab for custom handling and adjusted pricing.

Additional fees apply for withdrawals, transfers, and other account-management activities.
Frequently Asked Questions
How Do Financial Advisors Get Paid?
Financial advisors charge clients a flat fee, hourly rate, or a percentage of their assets under management (AUM). They can also collect commissions from selling you loans, insurance, real estate, or other investment plans. Additional charges may apply for withdrawals, transfers, custodial fees, and automated tax-loss harvesting.
Financial advisors usually deduct their fees automatically from your account balance or your initial investment deposit. Some may also receive a bonus salary from their firm or their affiliates.
Are Financial Advisor Fees Tax Deductible?
As of 2019, the only tax deductions that you can claim for financial advisor fees are your expenses based on commissions. Any other services you receive from your financial advisor that are not directly linked to an individual transaction are not tax-deductible.
If your financial advisor is charging a 1% commission on the purchase and sale of your stocks, then you can deduct that 1% commission on your taxes. The law ensures that the taxable gain you are reporting on your income taxes is equal to the actual amount you received from trading.
In other words, your wrap fees for a financial services bundle, your annual added investment-advice fees, and other general account-maintenance fees do not qualify for tax deductions.
Are Financial Advisors Worth The Cost?
The average advisor could help boost your returns by 3.75% or more. If you have $250,000 saved up for retirement, then a financial advisor may be worth it. They may add almost $10,000 more per year to your bottom line to live on in your golden years.
Financial advisors aren't a necessity if:
You started saving early.

You have an effective retirement and savings plan.

You have enough insurance to cover all your assets.

You have little debt and a well-constructed estate plan.
What Is A Fair Fee For A Financial Advisor?
To pay a fair fee, go with a Robo-advisor, or hire a financial advisor who works by fee-only and is not commission-based. A fair flat-fee is 1.30% on average annually for your advisor's services, or up to 1.98% if you include the expense of owning mutual funds. As you invest greater amounts, the percentage charged decreases.
How To Minimize Financial Advisor Fees
Consider negotiating custom fees to only pay for the services you need most. For example, if you only need access to an advisor to ask questions about minimal wealth management, then you could pay only 0.3% instead of the 1% charged for complete and personalized asset management.
Similarly, portfolio management only without financial planning services can cost 0.25% to 0.50% of your assets. You are free to negotiate a lower rate with your financial advisor if you only need a portion of their available services, so ask them for a full description of your options.
Additionally, you can request a more passive investment style such as a portfolio based in exchange-traded funds, or "ETFs." Then it's less work for your financial advisor, and it costs less.
Tips For Finding A Financial Advisor
Don't hire the first advisor you meet immediately. Compare a few financial advisors first and ask questions to see which one best suits your personal needs.

Consider the terms of your investment and what kind of payments to expect. Request a complete fee schedule. When in doubt, check their reviews.

To pay the lowest financial advisor costs possible, invest with a Robo-advisor. Robo-advisors typically require the least investment amounts or no investment minimum at all at some firms.
If you need to see a financial advisor near you, let us help by connecting you with the best money managers in your area. Just follow the links below and answer a few quick questions. Then we'll provide you with customized search results. Get the best financial consultant options for you today.